Product Description
Full Protocol OBD2 Jumper Used to Connect ECU for ECU Programing
Work with VVDI MB, VVDI2, VVDI Key Tool Plus

Full Protocol OBD2 Jumper Used to Connect ECU for ECU Programing can work with VVDI MB/VVDI2

Product Introduction:
Full protocol OBD2 jumper is used to connect ECU for ECU programming via OBD2 way such as MPPS, FGTECH, KESSV2, BYSHUT, DISPROG, etc.
Product Functions:
1. Supports DC power supply
2. Support safety protection banana head super programming dedicated connection port power supply.
3. Independent GND4, GND5 [meet the needs of special ECU programming].
4. With boot GND4 clip, compatible with programming equipment such as MPPS, FGTECH, KESSV2.
5. With GND4 GND5 short-circuit switch [some ECUs need to be switched to short-circuit mode when programming].
Note: The switch of GND4-5 is normally pressed to make it light. When some ECUs need to be independently connected to GND4 and GND5, release the switch.
6. With ignition analog switch [equipped with 1 large and 2 small dedicated ignition cables].
7. Support standard obd2 full protocol connection [double K line, double CAN line], 3 large and 2 small power plugs, 4 large GND, 4 small GND.
8. Equipped with CAN protocol communication resistance.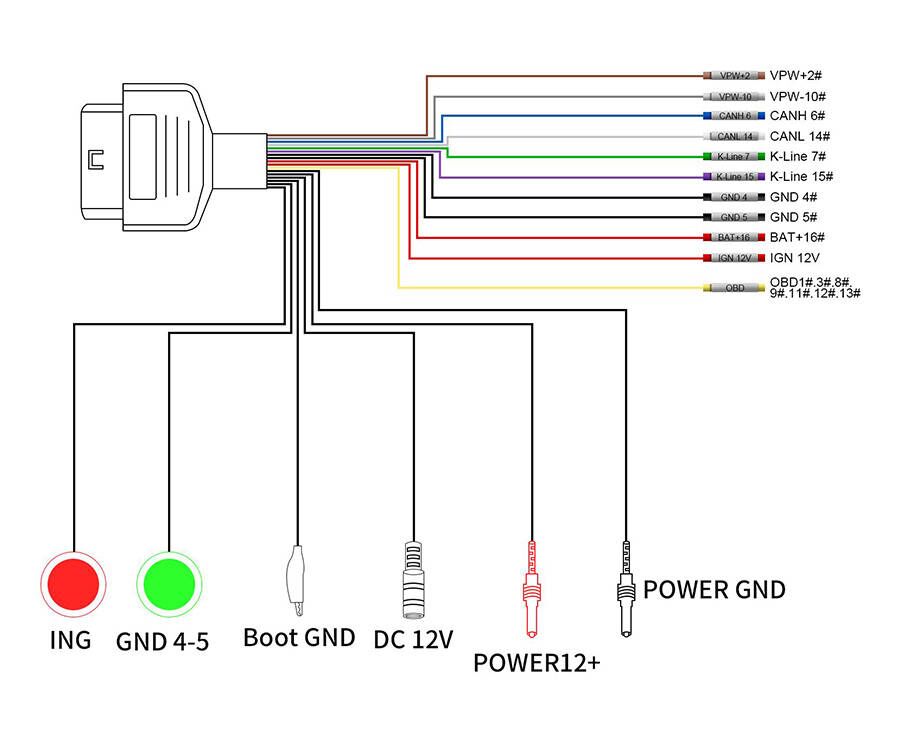 Connection diagram of the dedicated programming power connector.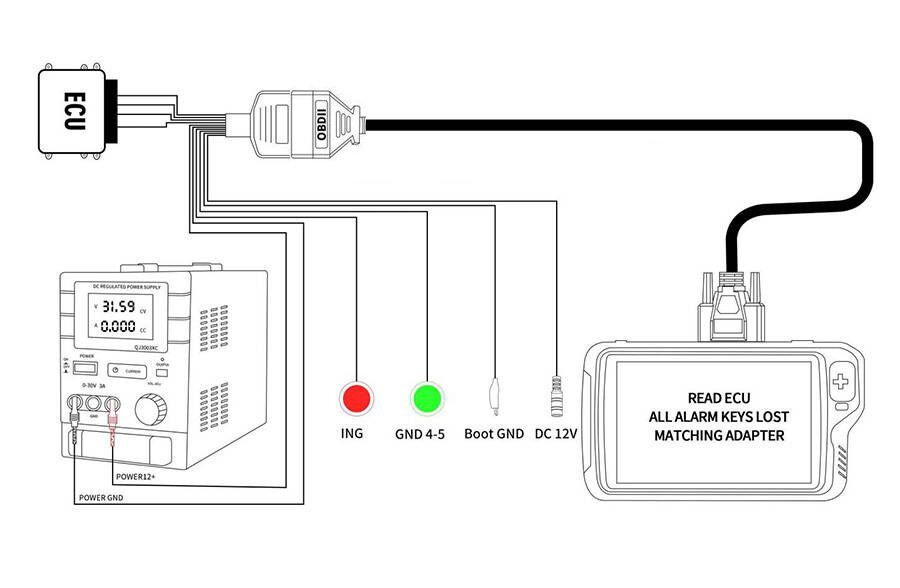 FGTECH programming connection diagram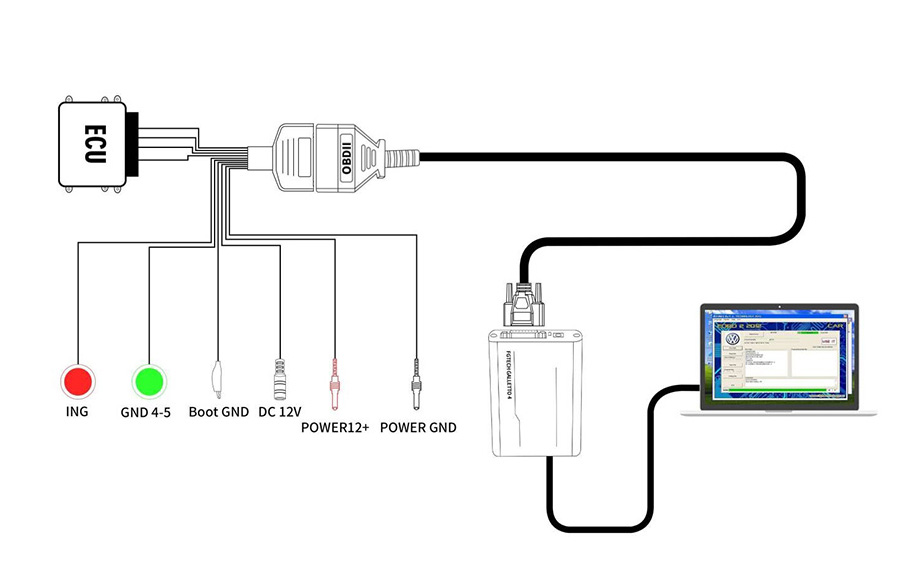 MPPS ECU connection diagram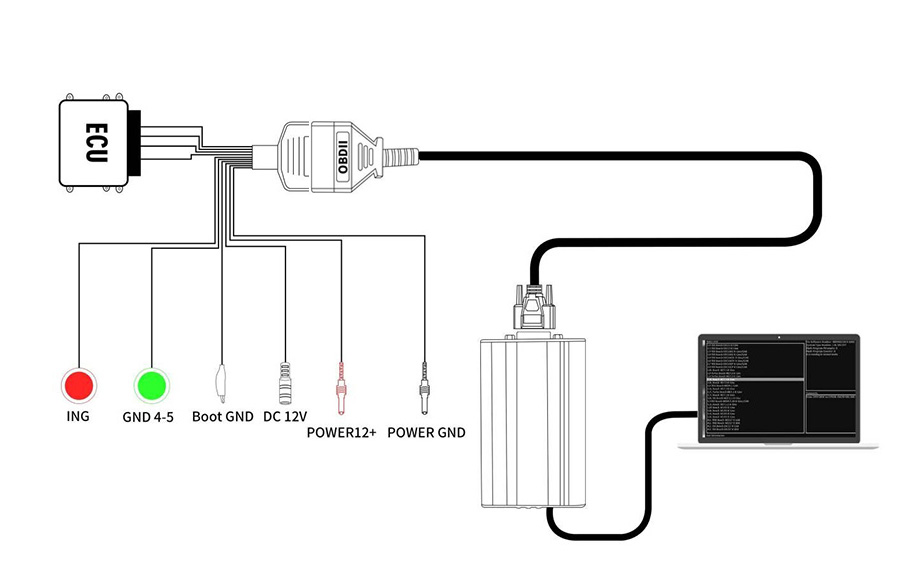 KESSV2 ECU connection diagram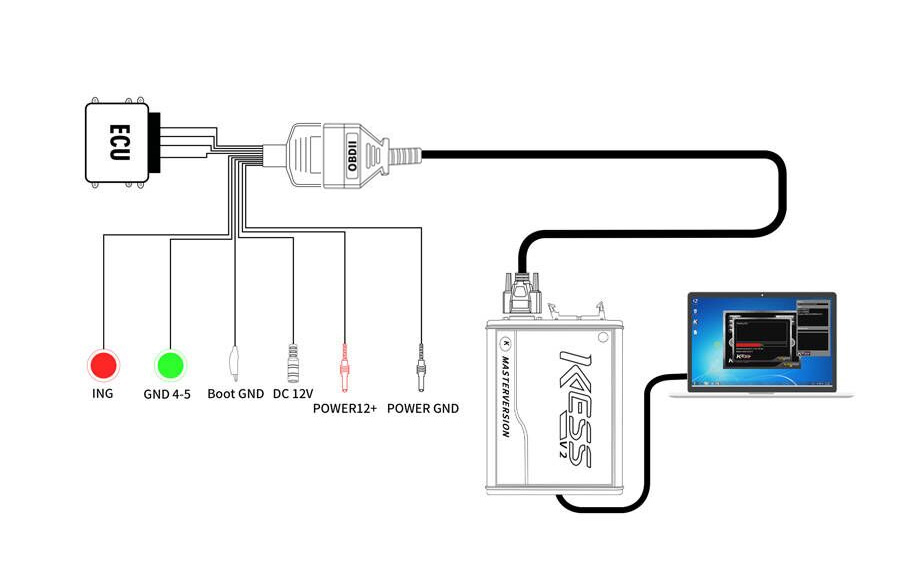 What is the analog ignition switch?

After the ignition switch is pressed, the line marked with ING12V will have 12v, which is the analog ignition switch. Because when some devices read some ECUs
the device will prompt to turn on or off the ignition switch.
Package Includes:
1pc x Full protocol OBD2 jumper
3pcs x Electrical resistance
Shipping Method and Delivery Time:

1)UK/EU/US Warehouse
Shipping:
2-5 working days
fast ship with
No Tax
.
We have stock in our UK/EU/US warehouse for most items.
Items titled "UK/EU/US Ship" are shipped from EU/UK/US warehouse to EU/UK/US Customers.
2) 4PX Post
Shipping:
6-10 working days
with
No Tax
.
The tax was pre-paid by us, when package reached, there's no tax no extra fee for customers.
3) Yanwen Express
Shipping:
10-15 working days
with
No Tax
.
Our company have IOSS, declare under 150 EUR,seller pay tax, customers no need to pay tax.So usually no tax no extra fee for EU customers.
4) DHL/UPS/Fedex
Shipping:
3-7 working days
.
For the items have no stock in UK warehouse, we will ship it by DHL. We will declare a lower price on the invoice to help your clearance.
If you have not received the goods during the normal time, please contact us for checking the package status timely online or by email:
Sales@XhorseTool.com

Scan

Xhorse QR code

to order by mobile phone
Contact information:

Live Support:
Chat with us online
Email:
Sales@xhorseTool.com
Skype:
VVDI2shop.com
Whatsapp/Tel:
+
86 13343421783
If you have any problems, please do not hesitate to contact us.